[ Building a 3 seat hovercraft ] [ Entering Scrapheap Challenge ] [ Two large and stupid motorbikes ] [ EvilStock(tm) 2004 - the festival ] [ EvilStock 2(tm) 2007 ] [ UK MogStock 2006 ] [ UK MogStock 2008 ] [ Car related stuff ] [ Other random nonsense ] [ Pete's Projectile Projects ] [ Links ] [ email me - jim ATE foodfight.org.uk ]
---
[ Mogstock Home ][ The "promo" ] [ Arriving and getting ready ] [ Saturday Part 1 ] [ Saturday Part 2 ] [ Sunday and onwards ] [ Videos ]
Damn, we need a roof.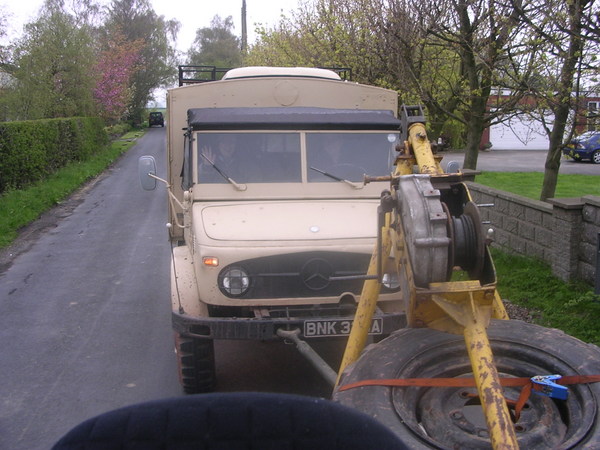 Woke up on sunday to a late morning and a couple of broken mogs. Many were planning on leaving early which gave us 1 broken U1300, 1 working U1600, one broken 404, and a half working 404 (ours - depended on weather it was raining or not!)
Green laning was out, so we cleaned the site whilst sorting the two mogs.

The U1300 was moved to a convenient point on the farm, where John and Scott would come and remove it for fixing on the Tuesday.

Once the packing was done, we hooked the broken 404 up ours and headed off to the "normal" farm with Mark (1600) behind. About 15 miles down back roads, towing the 404 with a bar at 40kph. We were popular.

Having mark behind in the big 'un with lights flashing seemed like a good backstop, except for poor pete in his car who had to tail behind, probably in 2nd gear.

Back to the farm where the 404 was tucked up for a week or so, and off for a well deserved pub meal and medals.
Many thanks to James, Diane and the marshalls at Hill and Ditch, Mouldsworth, for an excellent day. They did us proud with the weather.
Many thanks are also due to Alan, Marie, Jim and Caroline at the farm for putting up with us as well!
Also, to all who came, we had a most excellent weekend, thanks and see you soon! [ Mogstock Home ][ The "promo" ] [ Arriving and getting ready ] [ Saturday Part 1 ] [ Saturday Part 2 ] [ Sunday and onwards ] [ Videos ]